The first in Turkey: Crypto money account haczedildi
makes sharing on Twitter Attorney T. Kerem connoisseurs, he has announced that the first crypto-currency confiscation took place in Turkey. The said account, which was foreclosed according to the sharing, was opened on BTCTurk. The lawyer, who sent an e-mail to the exchange in question, shared the first information from his account.
BTCTurk mailed to lawyer for crypto money foreclosure
Lawyer T. Kerem makes sharing on Twitter connoisseurs, who gave information to the first crypto money foreclosure process takes place in Turkey. According to the share he made by the lawyer, crypto money accounts were also subject to foreclosure.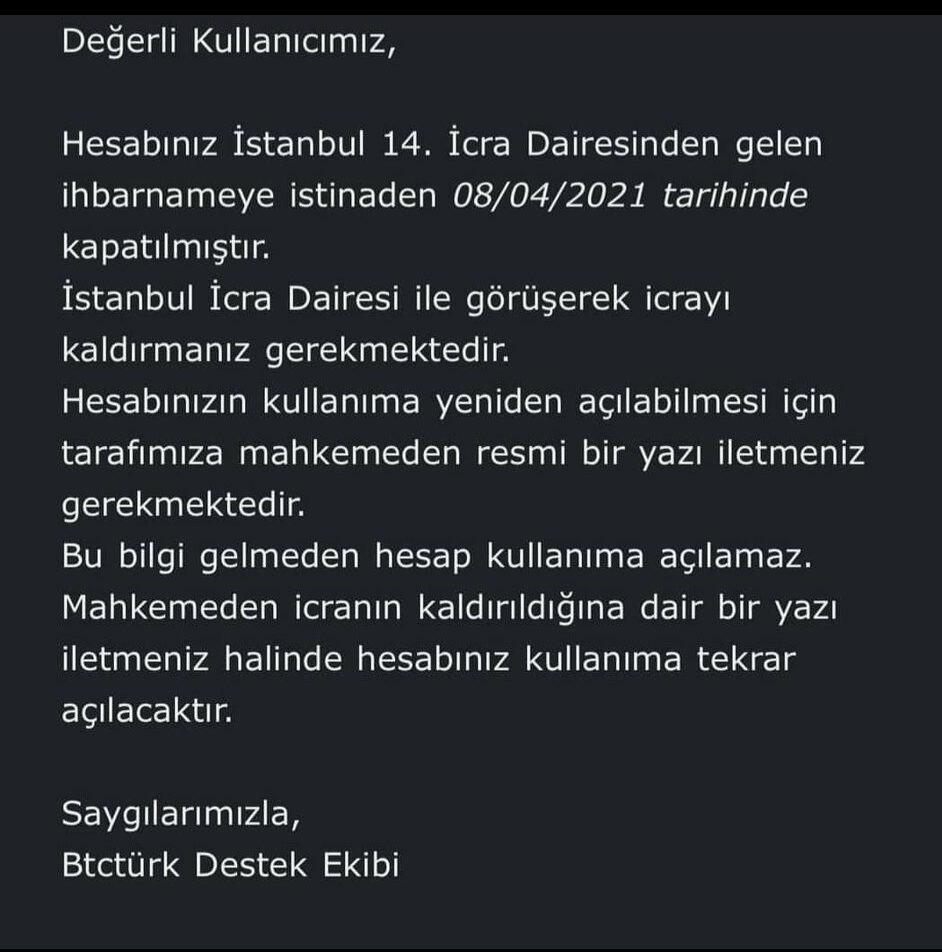 The lawyer also gave the first information about the issue via the mail he sent to BTC Türk. Sharing the message sent to the user by BTC Türk, the lawyer also included the legal basis of this transaction. In this context, Lawyer Kerem Bilen made a statement:
"Within the scope of official letters, which are generally considered as warrants, legal requests are met, and within the scope of the official letters received by us for the issuance of attachment annotation or the imposition of a measure, in accordance with the law, the Turkish lira and any kind of crypto money held by BtcTurk can be committed or a measure can be imposed." gave place to his statements.
Cryptocurrencies came back to the agenda in mid-2020 with the movement of Bitcoin. As important crypto currencies such as Bitcoin and Ethereum also broke records, Turkish users started to show great interest in crypto currencies.
legal regulation of crypto-currencies already in Turkey, no. However, the expectations are that the government will make a regulation on digital currencies towards the end of the year. Again, in recent weeks, it has been revealed that the Ministry of Finance has requested account information from crypto money exchanges. However, the ministry later announced that this was a routine procedure.
After gaining huge momentum in Turkey crypto currency trading, tax rumors also went pretty wild. Although there is no concrete evidence regarding tax studies so far, it is thought that the government is working in this direction.
Whether this foreclosure will adversely affect the crypto money market is a matter of curiosity. Btctürk in Turkey, it provides opportunities for companies such as crypto-currency exchange in the Pariba. Again Binance's office in Turkey from the world's largest crypto currency exchange. It also has a special application for Binance Turkey.