NVIDIA GeForce NOW price was slashed to Turkey
As of March 15 in Turkey, which will be available officially in the cloud game service for GeForce Now! By NVIDIA a new explanation came.
The service, which will serve with the server established in Ankara with the partnership of GAME +, is currently on the global server Founder membership For Turkish players price update came.
Turkey GeForce NOW player to special pricing
3 different GeForce NOW packages offered by Turkcell GAME + did not satisfy most of the users due to their prices. Along with the launch-specific package with a 3-month price of 149.70 TL (49.90 TL / month), the monthly fee of 74.90 TL was also attracted by the users.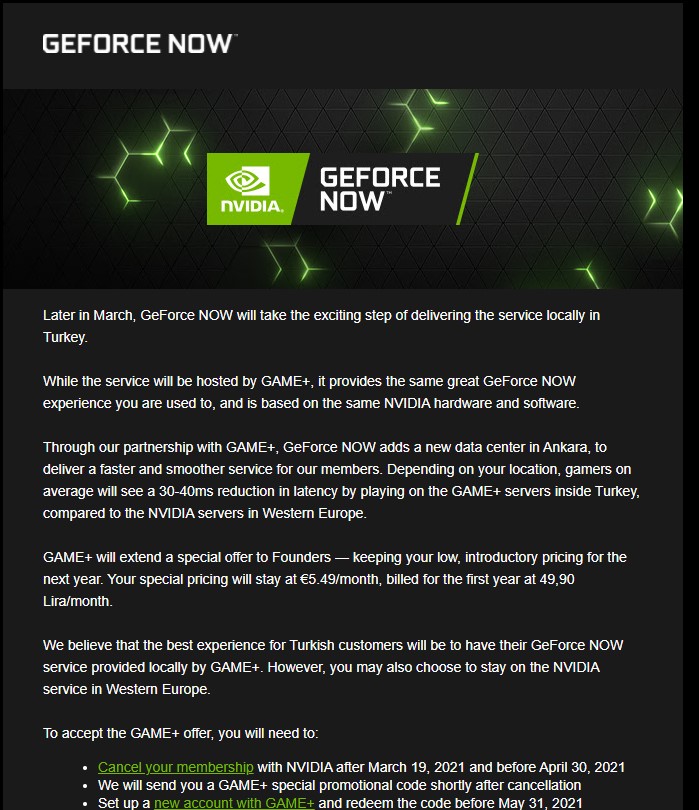 NVIDIA today sent an important email to users located in Turkey. In this email, it was announced that players who have a Founders account on the global server will be offered a special offer by GAME +.
GAME + has prepared a new offer by extending the pricing of Founders, a low-cost special promotional offer offered to GeForce NOW users. Special pricing is based on today's exchange rate 5.49 euros per month to GeForce NOW powered by GAME +. 49.90 TL per month for 1 year accessible as a premium by paying.
To take advantage of the offer of the GAME + service things to do as follows:
– Your NVIDIA membership Between 19 March 2021 – 30 April 2021 cancel it.
– Shortly after this, GAME + will send you a special promo code.
– A new in the GAME + service by opening an account Before 31 May 2021 Benefit from this offer by activating the code sent.
As mentioned earlier, Founder members will not be blocked access to the NVIDIA-operated service on May 3, 2021. Your NVIDIA Founders membership will be reactivated and billing will continue from May 3, 2021.