8-core Intel Core i7-11800H in performance test
New with GDC event Tiger Lake processors preparing to introduce Intel, mobile market also does not want to lose. American manufacturer, in the desktop processor market lost its superiority to AMD. Same situation in the mobile market not wanting to live in, Intel seeks to make an ambitious entry into the market. Now is Intel Core i7-11800H, It turned out in the Geekbench performance test.
in January H35 series recently introduced Intel 45W TDP have the value H series will introduce.
Intel Core i7-11800H surpasses AMD Ryzen 7 5800H
Last year Tiger Lake in processors To 10 nm production last Intel had finally ceased production of 14 nm. However, Tiger Lake processors released last year To U series belonged. Moreover, the cores used in these processors are Did not satisfy Intel. For this reason, the American manufacturer with Tiger Lake H processors To the production of 10 nm SuperFin passed.
Geekbench Intel Core i7-11800H, which appeared in the performance test, 8 cores / 16 threads in structure. 2.3 GHz base frequency with processor, with turbo 4.6 GHz'e can come out. The processor in Samsung's 760XDA model laptop computer, 24MB L3 cache comes with. The DDR4 memory capacity used in the test system is 32 GB.
Single core from the test 1537 points area i7-11800H so Ryzen 7 5700HManaged to pass. The processor that not only surpasses the Ryzen 7 5700H, Ryzen 9 5900H It also got very close to its processor. 10 nm SuperFin Switching to technology Intel, it seems single core side has experienced huge performance gains.
Geekbench multi core from the test 8393 points alan Intel Core i7-11800H, Ryzen 5800HHe managed to surpass in this area as well. Based on Ryzen 7 5800H 17 percent better multi-core performance The i7-11800H is behind the Ryzen 9 5900H in this regard. However, the Ryzen 9 5900H's rival i9-11900H It is useful to remind that. The i9-11900H is 300MHz faster on max single core than i7-11800H.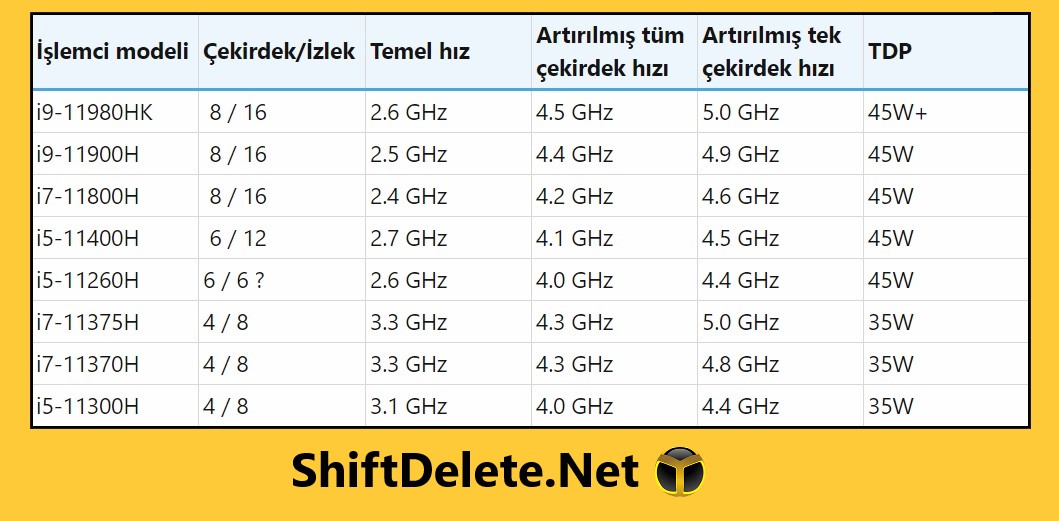 With the crest of competition, also in mobile desktop level processors we started to see. So much so that the i7-11800H is in a single core from the desktop processor Ryzen 7 5800X. about 9 percent far behind Such an increase in performance in mobile processors has also increased the interest in mobile products.
What do you think of Intel Tiger Lake mobile processors?